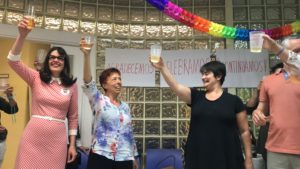 Hello on behalf of all members of PLENT Spain (PPIINA). We have been silent for too long because last year has been really hectic around here. And the fact of the matter is that we have good news to share with you!
Yes, dear PLENT-ers, for the first time in history, a country is about to put in place the reform of parental leaves that we have been pursuing for as long as 15 years now. If everything goes as scheduled, as of January 2021 each parent's leave to care for newborns and newly adopted children in Spain will be equal, non-transferable and 100% paid.
According to the new regulation passed last year in March, paternity leave has been already increased up to 12 weeks in January 2020 and must be increased up to 16 weeks in January 2021 – an equally long leave as mothers').
The new parental leave is completely individualized and equal for each parent (thus its new name "leave for birth" instead of the old "maternity and paternity leaves"), totally non transferable and paid at 100% of the salary (as the former maternity and paternity leaves).
The new leave has two parts: the first 6 weeks should be taken up right away after the birth, while the remaining 10 weeks can be placed any time within the first twelve months. 
The declared intention of this reform is that fathers and mothers can divide/organize their leaves in an equal manner, which means that they could, and should, spend the same amount of time off work and the same amount of time taking care of the baby. In practice, however, there are still some "small print" details which should be changed in order to truly allow this to happen. We call them "the pitfalls of the reform".
The first of these pitfalls is the obligation to spend the first 6 weeks of each parent's leave simultaneously (as the first six weeks of leave have to be taken immediately after birth or adoption). The second pitfall is the required prior approval from the employer for taking the 10 remaining weeks of leave on a full or a part-time basis (which enables employers to force fathers (not likely mothers) to take part-time leave; to take leave in particular dates; or any other convenient formula).
There are also other less crucial pitfalls and obstacles. The unnecessarily complex leave design makes understanding difficult and therefore hampers accountability of the reform impact. All these pitfalls illustrate the resistance by the patriarchal system to this decisive challenge to the sexual division of work.
The PPIINA design has been deliberately kept simple ever since we drafted our proposal for a law back in 2011 (watch it in this video). We still continue to advocate for it.
In July 2019, we organized a party with the following motto: "we celebrate, we are grateful, and we will continue". You have information, video and some pictures here. 
Please read more details in this article and at the PPIINA website. And also this one in English at the PLENT website. 
With our very warmest regards!